This is the Rubbery Shrubbery blog, where you've been learning how Yachats (YAH-hots), Oregon, acquires a Major League Baseball franchise. To learn more about Yachats and its inhabitants—called Yachatians (yah-HAY-shuns)— please go to this page or go to GoYachats.
Yachatians celebrated its annual Triple Play Baseball Festival this past weekend. Sitting in the press box at Rubbery Shrubbery Stadium (home of the Smelt), veteran sportswriter Harrison Grutch flexed his journalistic muscles on his ancient Underwood to describe the happenings. Here's the result.
More Than a Barrel of Monkeys
by Harrison Grutch
What a weekend it's been for Yachatians! On Friday evening, a slide presentation by Debbie Shattuck about women in baseball in the 1800s, followed by a quasi-baseball game on Saturday afternoon. Ms. Shattuck's talk was captured on video and will be available as a DVD in the Yachats Library as well as on YouTube, so I needn't cover that, I think. But the game deserves a few words.
First, it was played in RS Stadium, which is still unfinished. After a number of false starts, the LEGO® block construction doesn't in any way resemble Yankee Stadium or even the Little League® Stadium in Ennui, North Dakota. These things take time, of course, especially when done by five year olds.
Consequently, we had some inconveniences. You can imagine what they were. But despite whatever it is you are imagining, everyone had a great time. The simplicity of Yachatian rules made it easy for anyone to play in the game if they were so inclined. And lots of people were (see Fig. 1).
We had every gender (see Fig. 2 for two of them) and many ages. Fig. 3 shows Robert who is four. Fig. 4 shows a codger trying to pitch. We also had one golden retriever take part (in dog-years, as old as the codger), but we have no photos of her.
In case you're unaware of Yachatian rules, they are 1) keep batting until you hit a fair ball, 2) pitchers help out hitters, 3) we have no teams, 4) thus, we don't keep score, 5) we use a regulation size and weight baseball but it's spongy (MacGregor® level 1 baseball), and we request batters fetch balls they hit into the wetlands or into the baseball-eating blackberry bushes.
Note the very stylish Smelt cap and Smelt shirt the old guy in Fig. 4 is sporting. These days you see these all over Yachats. And no wonder!
Fans flock to watch quasi-baseball in Yachats (see Fig. 5) because it's more exciting than games elsewhere. Here they are watching their friends and relatives play. And the element of suspense is intense. You never know when the next series of disastrous errors will begin. Like a madcap comedy.
If you missed the Triple Play festival game this year, don't despair. There will be another next summer.
Here's some more photos from Triple Play: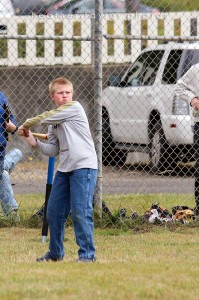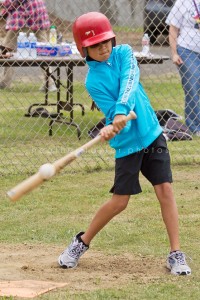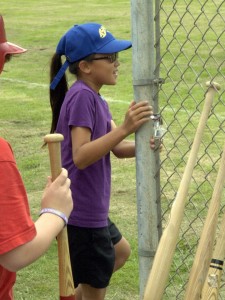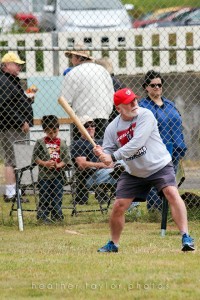 *Photographer for all photos in this post was Heather Taylor.
NOTE: One of our stalwart players John Bender spotted several major league scouts in the box seats on Saturday. He suggested the Smelt better get all our players under contract quickly. Dzunukwa, the Smelt general manager and Sasquatch witch, is getting right on it, you bet.
NOTE AGAIN: A surprise visit by Shoeless Joe Jackson about midway through the game brought play to a momentary muddle. Mr. Jackson came out of the baseball-eating blackberry patch in left field and doffed his hallucinatory Smelt cap. A three-second hesitation in play was called to honor the ghost of a great player. There wasn't a dry eye in the Stadium.
Be sure to check out the "Yachats Smelt" page on Facebook, and "Like" us if you're so inclined. Thank you.